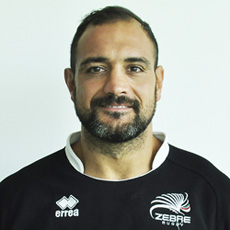 Marco Bortolami
| | |
| --- | --- |
| DOB | 12th Jun 1980 |
| Birthplace | Padova, Italy |
| Height | () |
| Weight | () |
| Position | Lock |
| Club | Zebre |
| Honours | (112 caps) |
Player Biog
Former Italy captain Marco Bortolami has been given the task of getting new boys Zebre into shape as quickly as possible, captaining them in their debut RaboDirect PRO12 campaign.

The 32-year-old second row has always been a natural leader, with Gloucester, Aironi and the Azzurri.

Originally from Padua, Bortolami started with Petrarca before moving to Narbonne and then Gloucester. He won his first Italy cap in 2001 and has since gone on to make 88 test appearances.
Date
Opposition
Tries
Conv
DG
Pen
YC
RC
Pts
Mins
06/09/2015

Cardiff Blues















26

11/09/2015

Newport Gwent Dragons















47

16/10/2015

Connacht Rugby















16

29/11/2015

Scarlets















29

06/12/2015

Ospreys















24

27/12/2015

Benetton Treviso















54

03/01/2016

Benetton Treviso















59

30/01/2016

Munster Rugby















80

12/02/2016

Leinster Rugby















80

20/02/2016

Connacht Rugby















80

28/02/2016

Leinster Rugby















54

04/03/2016

Ulster Rugby















80

01/04/2016

Edinburgh Rugby















80

08/04/2016

Glasgow Warriors















80

16/04/2016

Ulster Rugby















33

29/04/2016

Glasgow Warriors















80

07/05/2016

Newport Gwent Dragons















76

Total
Played 17
0

0

0

0

0

0

0

978

Date
Opposition
Tries
Conv
DG
Pen
YC
RC
Pts
Mins
03/10/2014

Ospreys















50

11/10/2014

Leinster Rugby















40

01/11/2014

Scarlets















22

29/11/2014

Edinburgh Rugby















50

21/12/2014

Newport Gwent Dragons















54

28/12/2014

Benetton Treviso















23

03/01/2015

Benetton Treviso















50

10/01/2015

Munster Rugby















54

28/03/2015

Ospreys















59

24/04/2015

Edinburgh Rugby















51

16/05/2015

Cardiff Blues















42

Total
Played 11
0

0

0

0

2

0

0

495

Date
Opposition
Tries
Conv
DG
Pen
YC
RC
Pts
Mins
07/09/2013

Connacht Rugby















65

13/09/2013

Munster Rugby















70

20/09/2013

Cardiff Blues















80

27/09/2013

Glasgow Warriors















80

04/10/2013

Newport Gwent Dragons















80

25/10/2013

Scarlets















80

01/11/2013

Edinburgh Rugby















68

30/11/2013

Ulster Rugby















73

20/12/2013

Ulster Rugby















55

28/12/2013

Benetton Treviso

1











5

80

04/01/2014

Benetton Treviso















74

21/03/2014

Leinster Rugby















50

29/03/2014

Newport Gwent Dragons















40

01/05/2014

Ospreys















50

10/05/2014

Glasgow Warriors















46

Total
Played 15
1

0

0

0

0

0

5

991

Date
Opposition
Tries
Conv
DG
Pen
YC
RC
Pts
Mins
10/02/2013

Glasgow Warriors















60

15/02/2013

Ulster Rugby















55

24/02/2013

Newport Gwent Dragons















80

01/03/2013

Connacht Rugby















80

29/03/2013

Edinburgh Rugby















80

13/04/2013

Cardiff Blues















80

21/04/2013

Leinster Rugby















80

03/05/2013

Munster Rugby















80

Total
Played 8
0

0

0

0

0

0

0

595

Date
Opposition
Tries
Conv
DG
Pen
YC
RC
Pts
Mins
28/10/2011

Munster Rugby















80

05/11/2011

Glasgow Warriors















80

02/12/2011

Edinburgh Rugby















15

23/12/2011

Benetton Treviso















70

31/12/2011

Benetton Treviso















80

07/01/2012

Connacht Rugby















80

15/04/2012

Scarlets















80

21/04/2012

Connacht Rugby















80

05/05/2012

Ospreys















80

Total
Played 9
0

0

0

0

1

0

0

645

Date
Opposition
Tries
Conv
DG
Pen
YC
RC
Pts
Mins
04/09/2010

Munster Rugby















27

11/09/2010

Ulster Rugby















35

25/09/2010

Ospreys















70

23/10/2010

Newport Gwent Dragons















57

29/10/2010

Cardiff Blues















72

05/11/2010

Glasgow Warriors















80

27/11/2010

Scarlets















80

24/12/2010

Benetton Treviso















69

31/12/2010

Benetton Treviso















54

10/02/2011

Leinster Rugby















80

20/02/2011

Newport Gwent Dragons















80

27/02/2011

Munster Rugby















80

04/03/2011

Ulster Rugby















80

11/03/2011

Connacht Rugby















80

26/03/2011

Connacht Rugby















80

02/04/2011

Glasgow Warriors















80

15/04/2011

Edinburgh Rugby















70

23/04/2011

Leinster Rugby















69

06/05/2011

Ospreys















78

Total
Played 19
0

0

0

0

4

0

0

1321

| Competition | Team | Played | Tries | Conv | DG | Pen | YC | RC | Pts |
| --- | --- | --- | --- | --- | --- | --- | --- | --- | --- |
| 2015-2016 - GUINNESS PRO12 | Zebre Rugby | 12 +5 | | | | | | | |
| 2015-2016 Total | | 12 +5 | | | | | | | |
| 2014-2015 - Guinness PRO12 | Zebre | 9 +2 | | | | | 2 | | |
| 2014-2015 Total | | 9 +2 | | | | | 2 | | |
| 2013-2014 - RaboDirect PRO12 | Zebre | 15 | 1 | | | | | | 5 |
| 2013-2014 Total | | 15 | 1 | | | | | | 5 |
| 2012-2013 - RaboDirect PRO12 | Zebre | 8 | | | | | | | |
| 2012-2013 Total | | 8 | | | | | | | |
| 2011-2012 - RaboDirect PRO12 | Aironi Rugby | 8 +1 | | | | | 1 | | |
| 2011-2012 Total | | 8 +1 | | | | | 1 | | |
| 2010-2011 - Magners League | Aironi Rugby | 17 +2 | | | | | 4 | | |
| 2010-2011 Total | | 17 +2 | | | | | 4 | | |
| Total - GUINNESS PRO14 | | 69 +10 | 1 | | | | 7 | | 5 |
| Total | | 69 +10 | 1 | 0 | 0 | 0 | 7 | 0 | 5 |
A plus sign (+) in the played column denotes substitute appearance