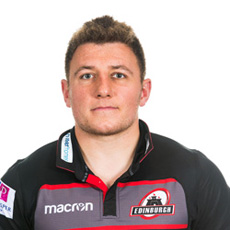 Duncan Weir
| | |
| --- | --- |
| DOB | 10th May 1991 |
| Birthplace | Glasgow, Scotland |
| Height | 1.73 m (5' 8") |
| Weight | 90 kg (14 st 2 lb) |
| Position | Fly Half |
| Club | Edinburgh Rugby |
| Honours | Scotland (27 caps) |
Player Biog
Fly-half Duncan Weir has already racked up more than 40 RaboDirect PRO12 appearances despite being just 21 and his excellent form for Glasgow Warriors earned him a Scotland call-up this year.

Renowned for his kicking abilities – both from the tee and with ball in hand – Weir battled back from a serious knee injury that left him sidelined for most of the 2008/9 season.

He has represented Scotland at U17 and U19 levels, as well as the Sevens team, while during last year's RBS 6 Nations, he won his first full international cap and claimed his second against Fiji over the summer.
Date
Opposition
Tries
Conv
DG
Pen
YC
RC
Pts
Mins
01/09/2017

Cardiff Blues



2



2





10

80

08/09/2017

Dragons



3



3





15

70

15/09/2017

Benetton Rugby



2



1





7

80

23/09/2017

Scarlets







1





3

64

06/10/2017

Zebre Rugby Club



1



2





8

56

16/02/2018

Ulster Rugby





1







3

8

23/02/2018

Dragons

1











5

10

16/03/2018

Munster Rugby















19

23/03/2018

Connacht Rugby

1

1



3





16

20

06/04/2018

Ulster Rugby

1

1



2





13

80

14/04/2018

Scarlets



1









2

18

28/04/2018

Glasgow Warriors







1





3

19

05/05/2018

Munster Rugby















16

Total
Played 13
3

11

1

15

1

0

85

540

Date
Opposition
Tries
Conv
DG
Pen
YC
RC
Pts
Mins
03/09/2016

Cardiff Blues



1



3





11

80

09/09/2016

Scarlets



2



2





10

80

16/09/2016

Leinster Rugby



1



1





5

80

24/09/2016

Munster Rugby



1









2

52

04/11/2016

Ulster Rugby







2





6

24

27/11/2016

Newport Gwent Dragons



1









2

27

02/12/2016

Ospreys



2



1





7

80

26/12/2016

Glasgow Warriors







4





12

69

31/12/2016

Zebre Rugby



1



4





14

77

17/02/2017

Leinster Rugby

1

1



1





10

80

03/03/2017

Ospreys







3





9

80

24/03/2017

Scarlets



1



1





5

69

07/04/2017

Connacht Rugby



2









4

80

15/04/2017

Benetton Rugby















6

28/04/2017

Newport Gwent Dragons















9

06/05/2017

Glasgow Warriors



2



5





19

80

Total
Played 16
1

15

0

27

0

0

116

973

Date
Opposition
Tries
Conv
DG
Pen
YC
RC
Pts
Mins
23/10/2015

Leinster Rugby



1



2





8

80

01/11/2015

Ospreys



1



3





11

80

27/11/2015

Benetton Treviso



1



1





5

25

02/01/2016

Edinburgh Rugby







2





6

80

31/01/2016

Ospreys



2



2





10

80

19/02/2016

Munster Rugby

1

2



1





12

80

25/02/2016

Newport Gwent Dragons

1

1



2





13

80

06/03/2016

Cardiff Blues



3



2





12

80

08/04/2016

Zebre Rugby



3









6

53

16/04/2016

Scarlets















13

29/04/2016

Zebre Rugby

1

10









25

75

21/05/2016

Connacht Rugby







2





6

79

Total
Played 12
3

24

0

17

0

0

114

805

Date
Opposition
Tries
Conv
DG
Pen
YC
RC
Pts
Mins
14/09/2014

Cardiff Blues



2



2





10

22

20/09/2014

Newport Gwent Dragons



2



2





10

80

26/09/2014

Connacht Rugby



4



2





14

80

05/10/2014

Benetton Treviso



3









6

53

30/11/2014

Newport Gwent Dragons



1



4





14

80

27/12/2014

Edinburgh Rugby



1



3





11

80

10/04/2015

Cardiff Blues















33

25/04/2015

Connacht Rugby















11

08/05/2015

Ospreys



1



1





5

80

16/05/2015

Ulster Rugby















5

22/05/2015

Ulster Rugby















1

30/05/2015

Munster Rugby







1





3

13

Total
Played 12
0

14

0

15

0

0

73

538

Date
Opposition
Tries
Conv
DG
Pen
YC
RC
Pts
Mins
05/10/2013

Scarlets



2



1





7

80

25/10/2013

Munster Rugby







2





6

66

02/11/2013

Connacht Rugby



1



4





14

80

26/12/2013

Edinburgh Rugby







5





15

80

22/03/2014

Scarlets







3





9

52

28/03/2014

Ospreys







2





6

80

12/04/2014

Munster Rugby



2



1





7

80

26/04/2014

Edinburgh Rugby















3

10/05/2014

Zebre



6









12

67

Total
Played 9
0

11

0

18

0

0

76

588

Date
Opposition
Tries
Conv
DG
Pen
YC
RC
Pts
Mins
31/08/2012

Ulster Rugby







1





3

56

07/09/2012

Scarlets



1









2

40

14/09/2012

Ospreys



2



2





10

59

01/12/2012

Munster Rugby







1





3

50

21/12/2012

Edinburgh Rugby







2





6

19

29/12/2012

Edinburgh Rugby















20

04/01/2013

Benetton Treviso



2









4

17

15/02/2013

Newport Gwent Dragons



5



2





16

67

01/03/2013

Cardiff Blues

1

3



1





14

61

23/03/2013

Leinster Rugby



2



1





7

80

29/03/2013

Munster Rugby



2









4

8

12/04/2013

Scarlets















32

19/04/2013

Ospreys



2



1





7

60

Total
Played 13
1

19

0

11

0

0

76

569

Date
Opposition
Tries
Conv
DG
Pen
YC
RC
Pts
Mins
02/09/2011

Ulster Rugby







3





9

80

09/09/2011

Munster Rugby







4





12

74

17/09/2011

Leinster Rugby



1



2





8

40

23/09/2011

Benetton Treviso

1

1



1





10

65

01/10/2011

Cardiff Blues



3



2





12

76

07/10/2011

Newport Gwent Dragons







8





24

80

28/10/2011

Ospreys



1



7





23

80

05/11/2011

Aironi Rugby





1

5





18

80

25/11/2011

Ulster Rugby





1

3





12

80

26/12/2011

Edinburgh Rugby



1



2





8

55

01/01/2012

Edinburgh Rugby







3





9

66

18/02/2012

Connacht Rugby







1





3

17

23/03/2012

Aironi Rugby



1



4





14

62

30/03/2012

Cardiff Blues



2



1





7

56

14/04/2012

Munster Rugby



1



2





8

25

22/04/2012

Benetton Treviso







2





6

75

05/05/2012

Connacht Rugby







4





12

60

12/05/2012

Leinster Rugby







1





3

57

Total
Played 18
1

11

2

55

0

0

198

1128

Date
Opposition
Tries
Conv
DG
Pen
YC
RC
Pts
Mins
03/09/2010

Leinster Rugby



1

1

1





8

16

12/09/2010

Newport Gwent Dragons















23

17/09/2010

Connacht Rugby















16

24/09/2010

Munster Rugby



2



5





19

53

01/10/2010

Ulster Rugby







4





12

72

24/10/2010

Ospreys



2



1





7

19

29/10/2010

Scarlets

1

2









9

40

05/11/2010

Aironi Rugby



2



3





13

80

11/02/2011

Cardiff Blues







5





15

69

18/02/2011

Connacht Rugby















17

25/02/2011

Newport Gwent Dragons



1



3





11

80

05/03/2011

Ospreys







2





6

54

18/03/2011

Benetton Treviso



2



2





10

80

25/03/2011

Ulster Rugby







1





3

4

02/04/2011

Aironi Rugby















18

16/04/2011

Benetton Treviso















13

22/04/2011

Scarlets















16

06/05/2011

Leinster Rugby







1





3

48

Total
Played 18
1

12

1

28

0

0

116

718

Date
Opposition
Tries
Conv
DG
Pen
YC
RC
Pts
Mins
23/04/2010

Leinster Rugby















5

14/05/2010

Ospreys















1

Total
Played 2
0

0

0

0

0

0

0

6

| Competition | Team | Played | Tries | Conv | DG | Pen | YC | RC | Pts |
| --- | --- | --- | --- | --- | --- | --- | --- | --- | --- |
| 2017-2018 - GUINNESS PRO14 | Edinburgh Rugby | 5 +8 | 3 | 11 | 1 | 15 | 1 | | 85 |
| 2017-2018 Total | | 5 +8 | 3 | 11 | 1 | 15 | 1 | | 85 |
| 2016-2017 - GUINNESS PRO12 | Edinburgh Rugby | 12 +4 | 1 | 15 | | 27 | | | 116 |
| 2016-2017 Total | | 12 +4 | 1 | 15 | | 27 | | | 116 |
| 2015-2016 - GUINNESS PRO12 | Glasgow Warriors | 9 +3 | 3 | 24 | | 17 | | | 114 |
| 2015-2016 Total | | 9 +3 | 3 | 24 | | 17 | | | 114 |
| 2014-2015 - Guinness PRO12 | Glasgow Warriors | 6 +6 | | 14 | | 15 | | | 73 |
| 2014-2015 Total | | 6 +6 | | 14 | | 15 | | | 73 |
| 2013-2014 - RaboDirect PRO12 | Glasgow Warriors | 8 +1 | | 11 | | 18 | | | 76 |
| 2013-2014 Total | | 8 +1 | | 11 | | 18 | | | 76 |
| 2012-2013 - RaboDirect PRO12 | Glasgow Warriors | 7 +6 | 1 | 19 | | 11 | | | 76 |
| 2012-2013 Total | | 7 +6 | 1 | 19 | | 11 | | | 76 |
| 2011-2012 - RaboDirect PRO12 | Glasgow Warriors | 15 +3 | 1 | 11 | 2 | 55 | | | 198 |
| 2011-2012 Total | | 15 +3 | 1 | 11 | 2 | 55 | | | 198 |
| 2010-2011 - Magners League | Glasgow Warriors | 8 +10 | 1 | 12 | 1 | 28 | | | 116 |
| 2010-2011 Total | | 8 +10 | 1 | 12 | 1 | 28 | | | 116 |
| 2009-2010 - Magners League | Glasgow Warriors | 0 +2 | | | | | | | |
| 2009-2010 Total | | 0 +2 | | | | | | | |
| Total - GUINNESS PRO14 | | 70 +43 | 10 | 117 | 4 | 186 | 1 | | 854 |
| Total | | 70 +43 | 10 | 117 | 4 | 186 | 1 | 0 | 854 |
A plus sign (+) in the played column denotes substitute appearance