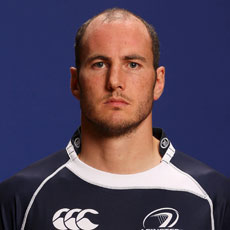 Girvan Dempsey
| | |
| --- | --- |
| DOB | 2nd Oct 1975 |
| Birthplace | Dublin, Ireland |
| Height | 1.83 m (6' 0") |
| Weight | 92 kg (14 st 6 lb) |
| Position | Full Back |
| Club | Leinster Rugby |
| Honours | Ireland (82 caps) |
Player Biog
Girvan Dempsey has been one of Leinster and Ireland's most consistent performers for well over a decade.

Girvan made his Leinster debut back in 1996 and is nearing 200 appearances for the province.

At the start of the 2009/10 season, Girvan had appeared in 74 Magners League games for Leinster, with whom he picked up a Magners League winners medal in 2007.

A Heineken Cup winner at Murrayfield last season, Girvan is now in his 13th season with Leinster.

Girvan is among Ireland's most-capped players, having played a total of 82 internationals to date.

He made his senior Ireland debut against Georgia in 1998, coming on as a replacement and marking the occasion with a brace of tries.

Girvan missed the 1999 World Cup through injury but has since appeared at both the 2003 and 2007 tournaments.

He currently has 19 international tries to his name, with one of the most memorable coming at Twickenham in 2004 when he helped Ireland secure a first Triple Crown since 1985.
Up close and personal…


If you could change one thing in the world what would it be?

If you could invite any 4 people for dinner who would you invite and why?

Will Ferrell, Cameron Diaz, Michael Palin, Megan Fox

What sporting event anywhere in the world would you pay the most to go and see?

Final day of the US Masters golf in Augusta

Do you have any superstitions?

Where are you most likely to be found off the rugby pitch?

If you are to believe old posts on wickipedia – Making Jam, Picking mushrooms and show jumping my Shetland pony 'tiny'!

Do you play any other sports?

Golf, hurling, soccer and tennis

Tell us an interesting fact about yourself

(or a claim to fame e.g. sang with Tina Turner)

I've played Snooker with Jimmy White & Brian Cowen (Taoiseach of Ireland)
Favourite...


Type of Magners

(Original, Pear, draught)

Original but I'm trying to embrace the pear
Rugby…


Getting two dead legs tackling a player in my first ever rugby session

Where did you first play rugby?

At school in Terenure College

Favourite player growing up?

John McClean (Schools' coach) & Michael Cheika

Terenure College RFC then Leinster

Club Tournaments played in?

Heineken Cup
Magners League

Ireland U21, Ireland A, Ireland Senior
Best...


| | |
| --- | --- |
| | Getting my first cap for Ireland |
| | Stan Wright – the Cook Islander is hilarious |
| | Against England in Croke Park 2007 |
| | Managing to get Jonah Lomu to ground in Landsdowne Road |
| | Winning the Magners League in 2007/08 |
| Part of being a professional sportsman | Not having to wear a suit and tie at work, and you get to hang around with your mates all day |
Worst...

| | |
| --- | --- |
| | Breaking my Collar bone and missing the 1999 Rugby World Cup |
| | Border Reivers (Galashields) on a cold and wet Friday night |
| | |
| Part of being a professional sportsman | |
Who is currently the best…


| | |
| --- | --- |
| | |
| | Katie Taylor (Irish boxer and footballer) |
| Rugby player in the world | |
| Soccer player in the world | |
| Rugby referee in the world | Them all – every referee thinks he's the best! |
Date
Opposition
Tries
Conv
DG
Pen
YC
RC
Pts
Mins
05/09/2009

Scarlets

1











5

65

24/10/2009

Ulster Rugby















53

31/10/2009

Cardiff Blues















42

20/02/2010

Scarlets















80

07/03/2010

Cardiff Blues















80

18/03/2010

Glasgow Warriors

1











5

80

27/03/2010

Connacht Rugby















80

02/04/2010

Munster Rugby















80

16/04/2010

Ospreys















80

21/04/2010

Connacht Rugby















47

09/05/2010

Edinburgh Rugby















80

Total
Played 11
2

0

0

0

0

0

10

767

Date
Opposition
Tries
Conv
DG
Pen
YC
RC
Pts
Mins
06/09/2008

Cardiff Blues















33

12/09/2008

Edinburgh Rugby















80

19/09/2008

Ospreys















80

28/09/2008

Munster Rugby















80

24/10/2008

Glasgow Warriors















80

29/11/2008

Newport Gwent Dragons















80

27/12/2008

Ulster Rugby















46

21/02/2009

Scarlets















80

06/03/2009

Ospreys















80

29/03/2009

Ulster Rugby















80

04/04/2009

Munster Rugby















51

17/04/2009

Edinburgh Rugby















80

25/04/2009

Glasgow Warriors















80

08/05/2009

Scarlets

1











5

32

16/05/2009

Newport Gwent Dragons















80

Total
Played 15
1

0

0

0

0

0

5

1042

Date
Opposition
Tries
Conv
DG
Pen
YC
RC
Pts
Mins
26/10/2007

Ulster Rugby















80

02/11/2007

Connacht Rugby















80

26/12/2007

Ulster Rugby















80

05/01/2008

Ospreys















80

29/03/2008

Llanelli Scarlets















15

12/04/2008

Munster Rugby















80

18/04/2008

Edinburgh Rugby















80

03/05/2008

Newport Gwent Dragons















80

09/05/2008

Newport Gwent Dragons

1











5

80

Total
Played 9
1

0

0

0

0

0

5

655

Date
Opposition
Tries
Conv
DG
Pen
YC
RC
Pts
Mins
29/09/2006

Connacht Rugby















80

06/10/2006

Munster Rugby















80

27/12/2006

Munster Rugby

1











5

48

24/03/2007

Connacht Rugby















80

06/04/2007

Glasgow Warriors















78

13/04/2007

Newport Gwent Dragons















80

27/04/2007

Ospreys















80

05/05/2007

Border Reivers















80

11/05/2007

Cardiff Blues















67

Total
Played 9
1

0

0

0

0

0

5

673

Date
Opposition
Tries
Conv
DG
Pen
YC
RC
Pts
Mins
04/09/2005

Ospreys















80

10/09/2005

Glasgow Warriors















80

16/09/2005

Newport Gwent Dragons

1











5

80

01/10/2005

Ulster Rugby















80

09/10/2005

Munster Rugby















80

15/10/2005

Cardiff Blues















80

03/12/2005

Connacht Rugby

1











5

80

26/12/2005

Ulster Rugby

1











5

80

31/12/2005

Munster Rugby















80

07/01/2006

Llanelli Scarlets















80

18/02/2006

Newport Gwent Dragons















80

05/03/2006

Connacht Rugby















80

07/04/2006

Border Reivers















80

14/04/2006

Llanelli Scarlets

1











5

80

29/04/2006

Ospreys















80

07/05/2006

Glasgow Warriors















80

14/05/2006

Cardiff Blues















80

26/05/2006

Edinburgh Gunners















80

Total
Played 18
4

0

0

0

0

0

20

1440

Date
Opposition
Tries
Conv
DG
Pen
YC
RC
Pts
Mins
10/10/2004

Edinburgh Rugby















80

15/10/2004

Ospreys















80

18/12/2004

Cardiff Blues

1











5

80

01/01/2005

Munster Rugby















80

30/01/2005

Newport Gwent Dragons















80

25/03/2005

Llanelli Scarlets















80

16/04/2005

Glasgow Rugby

1











5

80

Total
Played 7
2

0

0

0

0

0

10

560

Date
Opposition
Tries
Conv
DG
Pen
YC
RC
Pts
Mins
29/11/2003

Ospreys















80

02/04/2004

Glasgow Rugby















80

16/04/2004

Llanelli Scarlets















80

14/05/2004

Newport Gwent Dragons















80

Total
Played 4
0

0

0

0

0

0

0

320

Date
Opposition
Tries
Conv
DG
Pen
YC
RC
Pts
Mins
30/08/2002

Pontypridd















80

04/10/2002

Newport















80

26/10/2002

Bridgend















80

Total
Played 3
0

0

0

0

0

0

0

240

Date
Opposition
Tries
Conv
DG
Pen
YC
RC
Pts
Mins
17/08/2001

Glasgow Rugby

1











5

80

24/08/2001

Llanelli















5

28/08/2001

Ebbw Vale

2











10

80

31/08/2001

Ulster Rugby





1







3

80

08/09/2001

Bridgend

2











10

80

11/09/2001

Pontypridd















80

30/11/2001

Newport

1











5

80

07/12/2001

Glasgow Rugby

1











5

65

15/12/2001

Munster Rugby















80

Total
Played 9
7

0

1

0

0

0

38

630

| Competition | Team | Played | Tries | Conv | DG | Pen | YC | RC | Pts |
| --- | --- | --- | --- | --- | --- | --- | --- | --- | --- |
| 2009-2010 - Magners League | Leinster Rugby | 10 +1 | 2 | | | | | | 10 |
| 2009-2010 Total | | 10 +1 | 2 | | | | | | 10 |
| 2008-2009 - Magners League | Leinster Rugby | 13 +2 | 1 | | | | | | 5 |
| 2008-2009 Total | | 13 +2 | 1 | | | | | | 5 |
| 2007-2008 - Magners League | Leinster Rugby | 8 +1 | 1 | | | | | | 5 |
| 2007-2008 Total | | 8 +1 | 1 | | | | | | 5 |
| 2006-2007 - Magners League | Leinster Rugby | 9 | 1 | | | | | | 5 |
| 2006-2007 Total | | 9 | 1 | | | | | | 5 |
| 2005-2006 - Celtic League | Leinster Rugby | 18 | 4 | | | | | | 20 |
| 2005-2006 Total | | 18 | 4 | | | | | | 20 |
| 2004-2005 - Celtic League | Leinster Rugby | 7 | 2 | | | | | | 10 |
| 2004-2005 Total | | 7 | 2 | | | | | | 10 |
| 2003-2004 - Celtic League | Leinster Rugby | 4 | | | | | | | |
| 2003-2004 Total | | 4 | | | | | | | |
| 2002-2003 - Celtic League | Leinster Rugby | 3 | | | | | | | |
| 2002-2003 Total | | 3 | | | | | | | |
| 2001-2002 - Celtic League | Leinster Rugby | 8 +1 | 7 | | 1 | | | | 38 |
| 2001-2002 Total | | 8 +1 | 7 | | 1 | | | | 38 |
| Total - GUINNESS PRO14 | | 80 +5 | 18 | | 1 | | | | 93 |
| Total | | 80 +5 | 18 | 0 | 1 | 0 | 0 | 0 | 93 |
A plus sign (+) in the played column denotes substitute appearance