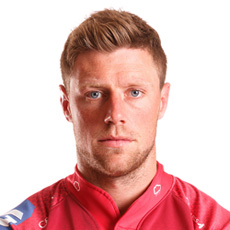 Rhys Priestland
| | |
| --- | --- |
| DOB | 9th Jan 1987 |
| Birthplace | Llangathen, Wales |
| Height | 1.83 m (6' 0") |
| Weight | 92 kg (14 st 6 lb) |
| Position | Fly Half |
| Club | Scarlets |
| Honours | Wales (50 caps) |
Player Biog
Rhys Priestland has enjoyed a meteoric rise through the ranks for both the Scarlets and Wales, making just his third international start during last year's World Cup.

He has since established himself as Wales' No.1 fly-half as he guided Wales to the semi-finals in New Zealand, while he has shone for the Scarlets and has already passed the 500-point mark in the RaboDirect PRO12.

Priestland, 25, is also more than capable at filling in at full-back and he has been crucial to the Scarlets' flying start to the season.
Date
Opposition
Tries
Conv
DG
Pen
YC
RC
Pts
Mins
06/09/2014

Ulster Rugby



3



2





12

70

13/09/2014

Leinster Rugby















71

20/09/2014

Benetton Treviso



4









8

58

26/09/2014

Edinburgh Rugby



2



2





10

80

05/10/2014

Newport Gwent Dragons



2



3





13

69

10/10/2014

Munster Rugby





1

1





6

73

21/11/2014

Glasgow Warriors















80

19/12/2014

Cardiff Blues







3





9

69

27/12/2014

Ospreys







1





3

17

03/01/2015

Ospreys







4





12

73

09/01/2015

Glasgow Warriors



1









2

80

21/02/2015

Munster Rugby















40

07/03/2015

Leinster Rugby







1





3

19

28/03/2015

Edinburgh Rugby















19

11/04/2015

Zebre



1



1





5

36

25/04/2015

Newport Gwent Dragons



3



1





9

74

10/05/2015

Cardiff Blues



1



3





11

80

16/05/2015

Benetton Treviso



2



1





7

77

Total
Played 18
0

19

1

23

0

0

110

1085

Date
Opposition
Tries
Conv
DG
Pen
YC
RC
Pts
Mins
06/09/2013

Leinster Rugby















80

14/09/2013

Benetton Treviso















80

20/09/2013

Newport Gwent Dragons



1



3





11

80

27/09/2013

Edinburgh Rugby



2



1





7

76

05/10/2013

Glasgow Warriors







3





9

80

25/10/2013

Zebre







2





6

32

21/12/2013

Munster Rugby















18

26/12/2013

Ospreys







2





6

80

03/01/2014

Ospreys







4





12

80

30/03/2014

Connacht Rugby



3



2





12

80

12/04/2014

Zebre



1



5





17

75

20/04/2014

Cardiff Blues

1





1





8

59

02/05/2014

Newport Gwent Dragons



4



2





14

80

10/05/2014

Cardiff Blues



1



1





5

73

Total
Played 14
1

12

0

26

0

0

107

973

Date
Opposition
Tries
Conv
DG
Pen
YC
RC
Pts
Mins
01/09/2012

Leinster Rugby



2









4

19

07/09/2012

Glasgow Warriors







1





3

80

15/09/2012

Connacht Rugby



1









2

73

21/09/2012

Ospreys



1



3





11

80

29/09/2012

Benetton Treviso



2

1

1





10

80

05/10/2012

Newport Gwent Dragons







1





3

15

26/10/2012

Edinburgh Rugby







1





3

24

20/04/2013

Cardiff Blues



1









2

20

03/05/2013

Benetton Treviso















32

Total
Played 9
0

7

1

7

0

0

38

423

Date
Opposition
Tries
Conv
DG
Pen
YC
RC
Pts
Mins
26/12/2011

Ospreys



1



5





17

80

07/01/2012

Glasgow Warriors



1



3





11

80

30/03/2012

Edinburgh Rugby



1



3





11

61

15/04/2012

Aironi Rugby



1



3





11

80

21/04/2012

Munster Rugby



2



2





10

80

05/05/2012

Cardiff Blues



3



1





9

80

Total
Played 6
0

9

0

17

0

0

69

461

Date
Opposition
Tries
Conv
DG
Pen
YC
RC
Pts
Mins
04/09/2010

Benetton Treviso

1

2



3





18

80

17/09/2010

Aironi Rugby















23

24/09/2010

Newport Gwent Dragons















32

02/10/2010

Ospreys















6

22/10/2010

Cardiff Blues

1





3





14

80

29/10/2010

Glasgow Warriors







6





18

80

21/11/2010

Munster Rugby



2



4





16

78

27/11/2010

Aironi Rugby



1

1

3





14

80

03/12/2010

Leinster Rugby







4





12

76

27/12/2010

Ospreys



2



1





7

80

01/01/2011

Newport Gwent Dragons

1

1



3





16

80

08/01/2011

Edinburgh Rugby



1



3





11

63

18/02/2011

Ulster Rugby



1

1

2





11

80

04/03/2011

Leinster Rugby



1



1





5

80

27/03/2011

Benetton Treviso















80

01/04/2011

Ulster Rugby



1









2

80

16/04/2011

Munster Rugby







2





6

80

22/04/2011

Glasgow Warriors















2

06/05/2011

Cardiff Blues



1



2





8

43

Total
Played 19
3

13

2

37

0

0

158

1203

Date
Opposition
Tries
Conv
DG
Pen
YC
RC
Pts
Mins
05/09/2009

Leinster Rugby



1



2





8

80

13/09/2009

Glasgow Warriors







2





6

80

19/09/2009

Munster Rugby



2



1





7

80

26/09/2009

Cardiff Blues















80

02/10/2009

Ulster Rugby















80

23/10/2009

Newport Gwent Dragons







6





18

80

30/10/2009

Connacht Rugby







1





3

72

04/12/2009

Edinburgh Rugby







1





3

80

26/12/2009

Ospreys







1





3

80

31/12/2009

Newport Gwent Dragons

1





1





8

80

20/02/2010

Leinster Rugby







3





9

80

05/03/2010

Ulster Rugby

1

2



2





15

80

18/03/2010

Munster Rugby

1





4





17

80

26/03/2010

Edinburgh Rugby



1



2





8

51

02/04/2010

Ospreys















80

17/04/2010

Cardiff Blues















9

25/04/2010

Connacht Rugby



5



1





13

71

07/05/2010

Glasgow Warriors















17

Total
Played 18
3

11

0

27

0

0

118

1260

Date
Opposition
Tries
Conv
DG
Pen
YC
RC
Pts
Mins
28/11/2008

Munster Rugby



1



3





11

80

20/12/2008

Cardiff Blues















80

27/12/2008

Ospreys







2





6

80

01/01/2009

Newport Gwent Dragons















5

09/01/2009

Connacht Rugby







1





3

80

21/02/2009

Leinster Rugby



2



1





7

80

08/03/2009

Edinburgh Rugby















80

04/04/2009

Glasgow Warriors















6

18/04/2009

Ospreys



1



4





14

80

24/04/2009

Munster Rugby







1





3

40

08/05/2009

Leinster Rugby















27

13/05/2009

Cardiff Blues







2





6

61

16/05/2009

Ulster Rugby



5



1





13

80

Total
Played 13
0

9

0

15

0

0

63

779

Date
Opposition
Tries
Conv
DG
Pen
YC
RC
Pts
Mins
22/09/2007

Munster Rugby



1



3





11

80

28/09/2007

Connacht Rugby



4



2





14

80

05/10/2007

Leinster Rugby



5



4





22

80

12/10/2007

Ulster Rugby



3



2





12

76

25/11/2007

Edinburgh Rugby



1









2

80

01/01/2008

Newport Gwent Dragons



1



2





8

80

04/01/2008

Connacht Rugby







6





18

80

15/02/2008

Glasgow Warriors

1

1



1





10

70

29/02/2008

Ulster Rugby

1





1





8



21/03/2008

Cardiff Blues

















11/04/2008

Cardiff Blues

















03/05/2008

Munster Rugby

















10/05/2008

Edinburgh Rugby



1









2



Total
Played 13
2

17

0

21

0

0

107

626

| Competition | Team | Played | Tries | Conv | DG | Pen | YC | RC | Pts |
| --- | --- | --- | --- | --- | --- | --- | --- | --- | --- |
| 2014-2015 - Guinness PRO12 | Scarlets | 14 +4 | | 19 | 1 | 23 | | | 110 |
| 2014-2015 Total | | 14 +4 | | 19 | 1 | 23 | | | 110 |
| 2013-2014 - RaboDirect PRO12 | Scarlets | 12 +2 | 1 | 12 | | 26 | | | 107 |
| 2013-2014 Total | | 12 +2 | 1 | 12 | | 26 | | | 107 |
| 2012-2013 - RaboDirect PRO12 | Scarlets | 4 +5 | | 7 | 1 | 7 | | | 38 |
| 2012-2013 Total | | 4 +5 | | 7 | 1 | 7 | | | 38 |
| 2011-2012 - RaboDirect PRO12 | Scarlets | 6 | | 9 | | 17 | | | 69 |
| 2011-2012 Total | | 6 | | 9 | | 17 | | | 69 |
| 2010-2011 - Magners League | Scarlets | 14 +5 | 3 | 13 | 2 | 37 | | | 158 |
| 2010-2011 Total | | 14 +5 | 3 | 13 | 2 | 37 | | | 158 |
| 2009-2010 - Magners League | Scarlets | 16 +2 | 3 | 11 | | 27 | | | 118 |
| 2009-2010 Total | | 16 +2 | 3 | 11 | | 27 | | | 118 |
| 2008-2009 - Magners League | Scarlets | 10 +3 | | 9 | | 15 | | | 63 |
| 2008-2009 Total | | 10 +3 | | 9 | | 15 | | | 63 |
| 2007-2008 - Magners League | Llanelli Scarlets | 10 +3 | 2 | 17 | | 21 | | | 107 |
| 2007-2008 Total | | 10 +3 | 2 | 17 | | 21 | | | 107 |
| Total - GUINNESS PRO14 | | 86 +24 | 9 | 97 | 4 | 173 | | | 770 |
| Total | | 86 +24 | 9 | 97 | 4 | 173 | 0 | 0 | 770 |
A plus sign (+) in the played column denotes substitute appearance