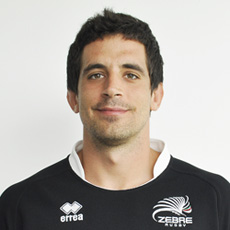 Paul Derbyshire
| | |
| --- | --- |
| DOB | 3rd Nov 1986 |
| Birthplace | Cecina,LI, Italy |
| Height | 1.93 m (6' 4") |
| Weight | 103 kg (16 st 3 lb) |
| Position | Flanker |
| Club | Benetton Treviso |
| Honours | (24 caps) |
Player Biog
The son of an English father and an Italian mother, Paul Derbyshire is part of a Treviso side desperate to go from dark horses to RaboDirect PRO12 contenders.

An Italian international, Derbyshire has 16 caps to his name for the Azzurri while he has been part of the Treviso team since they joined the competition three years ago.

Prior to the addition of the Italian sides to the RaboDirect PRO12 the 26-year-old flanker had played for Cavalieri, Gran Parma and Petrarca, as well as a short stint with Stade Français in Paris.

Date
Opposition
Tries
Conv
DG
Pen
YC
RC
Pts
Mins
06/09/2015

Cardiff Blues















54

11/09/2015

Newport Gwent Dragons















51

29/11/2015

Scarlets















71

06/12/2015

Ospreys















56

Total
Played 4
0

0

0

0

0

0

0

232

Date
Opposition
Tries
Conv
DG
Pen
YC
RC
Pts
Mins
01/03/2015

Connacht Rugby















6

07/03/2015

Edinburgh Rugby















7

10/04/2015

Ospreys















43

25/04/2015

Munster Rugby















58

08/05/2015

Leinster Rugby















66

16/05/2015

Scarlets















74

Total
Played 6
0

0

0

0

0

0

0

254

Date
Opposition
Tries
Conv
DG
Pen
YC
RC
Pts
Mins
08/02/2014

Scarlets















80

01/03/2014

Connacht Rugby















50

29/03/2014

Edinburgh Rugby















55

04/04/2014

Glasgow Warriors















80

12/04/2014

Newport Gwent Dragons















80

18/04/2014

Leinster Rugby















60

02/05/2014

Glasgow Warriors















60

10/05/2014

Newport Gwent Dragons















65

Total
Played 8
0

0

0

0

0

0

0

530

Date
Opposition
Tries
Conv
DG
Pen
YC
RC
Pts
Mins
31/08/2012

Ospreys















9

07/09/2012

Munster Rugby















77

29/09/2012

Scarlets















72

23/11/2012

Ulster Rugby















80

01/12/2012

Newport Gwent Dragons















25

22/12/2012

Zebre















23

29/12/2012

Zebre















80

01/03/2013

Ulster Rugby















26

23/03/2013

Cardiff Blues















13

13/04/2013

Ospreys















80

19/04/2013

Edinburgh Rugby















36

Total
Played 11
0

0

0

0

0

0

0

521

Date
Opposition
Tries
Conv
DG
Pen
YC
RC
Pts
Mins
29/10/2011

Newport Gwent Dragons

1











5

18

26/11/2011

Leinster Rugby















80

02/12/2011

Connacht Rugby















52

18/02/2012

Munster Rugby















40

Total
Played 4
1

0

0

0

0

0

5

190

Date
Opposition
Tries
Conv
DG
Pen
YC
RC
Pts
Mins
04/09/2010

Scarlets















14

10/09/2010

Ospreys















78

18/09/2010

Leinster Rugby















7

01/10/2010

Newport Gwent Dragons















80

24/12/2010

Aironi Rugby















51

31/12/2010

Aironi Rugby















80

07/01/2011

Ulster Rugby















16

04/03/2011

Connacht Rugby















33

27/03/2011

Scarlets















33

03/04/2011

Newport Gwent Dragons















24

16/04/2011

Glasgow Warriors















80

21/04/2011

Cardiff Blues















80

06/05/2011

Edinburgh Rugby















52

Total
Played 13
0

0

0

0

0

0

0

628

| Competition | Team | Played | Tries | Conv | DG | Pen | YC | RC | Pts |
| --- | --- | --- | --- | --- | --- | --- | --- | --- | --- |
| 2015-2016 - GUINNESS PRO12 | Zebre Rugby | 3 +1 | | | | | | | |
| 2015-2016 Total | | 3 +1 | | | | | | | |
| 2014-2015 - Guinness PRO12 | Benetton Treviso | 4 +2 | | | | | | | |
| 2014-2015 Total | | 4 +2 | | | | | | | |
| 2013-2014 - RaboDirect PRO12 | Benetton Treviso | 8 | | | | | | | |
| 2013-2014 Total | | 8 | | | | | | | |
| 2012-2013 - RaboDirect PRO12 | Benetton Treviso | 6 +5 | | | | | | | |
| 2012-2013 Total | | 6 +5 | | | | | | | |
| 2011-2012 - RaboDirect PRO12 | Benetton Treviso | 3 +1 | 1 | | | | | | 5 |
| 2011-2012 Total | | 3 +1 | 1 | | | | | | 5 |
| 2010-2011 - Magners League | Benetton Treviso | 7 +6 | | | | | | | |
| 2010-2011 Total | | 7 +6 | | | | | | | |
| Total - GUINNESS PRO14 | | 31 +15 | 1 | | | | | | 5 |
| Total | | 31 +15 | 1 | 0 | 0 | 0 | 0 | 0 | 5 |
A plus sign (+) in the played column denotes substitute appearance